To get involved email us at This email address is being protected from spambots. You need JavaScript enabled to view it. , call us at (347) 560-4695, and/or come to a meeting.
Save
Details

Category: New York Women's Liberation
Join National Women's Liberation and Redstockings for an action to raise consciousness about street and workplace harassment, sexist advertising and the connection between them.

When: Saturday, February 7th, Noon-2
Where: Outside American Apparel, 704 Broadway, just north of West 4th Street, New York, NY (see on map)

Call on men to stop harassing women and to speak up when they see other men harassing women. Let's call out ad-makers for using imagery that oppresses women and men for falling for it. Come fight with us! We'll be picketing and handing out flyers in front of American Apparel, a company which is notorious for objectifying women in their advertisements.

"This oppresses women" sticker, Redstockings, 1969. More from the Redstockings Archives for Action at www.redstockings.org.

Email us at This email address is being protected from spambots. You need JavaScript enabled to view it. to let us know if you can make it, and help spread the word!
Details

Category: New York Women's Liberation

Building Women's Liberation Now: Gems from the 1960s &
Beyond for Radical Feminist Theory & Action Today
A joint project of Redstockings and National Women's Liberation
10 weekly sessions: Thursdays, September 18th-November 20th, 7-9pm
Fee: $45 (no one turned away for lack of funds)
Sign up: Registration is now closed. No walk-in registrations will be accepted on site.
This class is for women who want to understand basic truths and political causes of the unfairness in our daily lives; how a feminist movement was organized to change this; what we can do now to build the kind of movement that can put the male chauvinist establishment on the run again; and how each woman can contribute to that effort.
Details

Category: New York Women's Liberation
Over the next few months, National Women's Liberation will be working with Redstockings members and volunteers to revise and expand the organizer's class:
"Women's Liberation: Where Do I Fit In
?" This class was developed by Gainesville (FL) Women's Liberation and Redstockings using literature from the
Redstockings Women's Liberation Archives for Action
.

Redstockings, with NWL assistance, will teach the class this coming September in NYC, and this preparatory study and revision will strengthen the theory and lessons of the class. The class is part of our work to build a grassroots movement of women to bring new fire to the fight for our liberation.

Join Us!


Our final study and curriculum planning meeting will be held on Tuesday, September 9, 2014
from 7 - 9pm. In Florida, the meeting will be held at 1229 NW 12th Ave., Gainesville, FL. In NYC, please email This email address is being protected from spambots. You need JavaScript enabled to view it. for meeting location information.
Email us
if you are interested in being a part of the study and curriculum planning meetings this summer.
Click here
if you are interested in taking the class this Fall. To be a part of these meetings we ask that you commit to reading the class materials for the meetings you attend.
Details

Category: New York Women's Liberation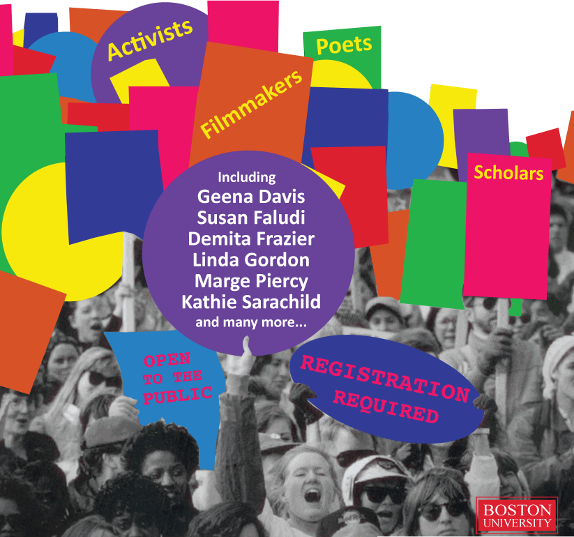 Join National Women's Liberation and Redstockings at the Boston Women's Liberation Conference, March 27 - 29, 2014.
Speakers include Redstockings women's liberation pioneer Kathie Sarachild and National Women's Liberation member Annie Tummino, lead Plaintiff in the Morning-After Pill lawsuit against the FDA.
Visit www.redstockings.org for conference information, schedules and registration.
Details

Category: New York Women's Liberation
Annie Tummino, NWL organizer and lead plaintiff in the lawsuit that won over-the-counter morning-after pill access in the U.S., is speaking at the following event organized by Brooklyn-Queens Chapter of NOW. Please email us if you can attend at This email address is being protected from spambots. You need JavaScript enabled to view it. .

Roe v. Wade: Overcoming the Challenges

WHERE: Brooklyn College-Women's Center
227 New Ingersoll Hall
Map
WHEN: January 25, 2014, 12:00-3:00 pm

Speakers Include:

Annie Tummino, National Women's Liberation
Emily Kadar, Government Affairs Manager for NARAL Pro-Choice New York
Zenaida Mendez, President, NOW-NYS
Kelly Baden, Center for Reproductive Rights
Jessica Atrio, Physicians for Reproductive Choice and Health

Light Refreshments will be served.
Details

Category: New York Women's Liberation
Photos by Laurie Wen. Left Photo: NWL organizers stage a protest in a Rite Aid on 6th Ave near 14th Street, where Plan B One-Step is locked in ridiculously large, locked boxes. Right Photo: At Duane Reade a non-intrusive, non-locked packaging is being used.
On October 26, 2013, the NWL New York Chapter took to the streets to do our own investigation of how Plan B One-Step is being sold. Whenever we saw obstacles, such as the pill locked in attention-grabbing locked boxes, or lack of over-the-counter access, we "zapped" the pharmacy: doing a street theater action right in the aisle. We raised consciousness of how the locked boxes embarrass women; suggest that women who need birth control are apt to steal it; and confuse staff.
We are happy to report that some pharmacies are utilizing a new, non-intrusive plastic enclosure. However, the way that Plan B One Step is sold varies from store to store- even within the same chain. In some stores, Plan B One Step remains behind the counter. And the price (around $50) continues to be a problem everywhere.

Help us gather more information on how the Morning-After Pill is being sold! Investigate your local pharmacy and fill out our survey.
Details

Category: New York Women's Liberation
We Won't Let Pharmacies Undercut our Victory on the Morning-After Pill!
Feminists won a major victory when our decade long organizing campaign resulted in over-the-counter access for all women and girls to the morning-after pill. But our victory is being seriously undermined. The pill continues to be so outrageously expensive that many of us can't afford to buy it. And now, pharmacies are locking Plan B One-Step in ridiculously large, locked plastic cases, or hiding it behind-the-counter. These boxes are so attention grabbing one feminist likened them to walking across the store in a dunce cap.

We won't stop fighting for justice. Organize with us:

1. This email address is being protected from spambots. You need JavaScript enabled to view it. if you're interested in planning overall logistics for the roving action.

2. We need more information on whether the Morning-After Pill is being sold in stores, how it's being sold, and how much it costs. Visit your local pharmacy and fill out our survey.

3. Women: come to our organizing meeting on Monday 10/21 at 6:30pm at Judson Memorial Church, 239 Thompson Street (take the A/C/E, B/D/F/M to the W 4th Street station) for final preparation for the action.

4: Save the date: Flashmob action, Sat 10/26 1pm. All are welcome. (Meet up place in lower Manhattan will be sent a week beforehand)
Details

Category: New York Women's Liberation
Photo: Redstockings, Inc.
for more information on Redstockings see http://redstockings.org/
Thursday, Sept 12, 2013, from 6:30pm to 8:15pm
220 Fifth Avenue (at 26th Street), 5th floor, New York, NY (map)

In preparation for Redstockings' upcoming "Shulamith Firestone Women's Liberation Memorial Conference on What is To Be Done" on October 5, 2013, we will be reading Shulamith Firestone's article "The Women's Rights Movement in the U.S.: A New View" (article available here)1 that was published in 1968 in New York Radical Women's Notes from the First Year.

We will be using Consciousness Raising to answer the question posed by Redstockings: "What is your thinking now and has it changed on the causes of women's oppression? How and why has it changed?"

We will also be building off this summer's meetings to plan NWL's next zap action to push back against the obstacles that stand in the way of buying the Morning-After Pill.
Save the Date!
NWL's next zap action will be Sunday, October 27th

We need more information on whether the Morning-After Pill is being sold in stores and how it's being sold. Please fill out our survey (here) so that we will know which pharmacies are making it more difficult to buy the Morning-After Pill.
Details

Category: New York Women's Liberation
Obama Administration: Still Not Good Enough on Morning-After Pill
Join us on Wed Aug. 7th
Feminist Consciousness Raising & Action Planning
Are you angry that a package of Plan B One-Step emergency contraception at Duane Reade in NYC costs $54.99? That it is held hostage in a ridiculous, attention-grabbing, plastic box? That the Obama Administration is enforcing abitrary restrictions on generic morning-after pill products?

Are you angry that the same powerful men who attack our right to birth control, including abortion and contraception, proclaiming their so-called "family values," are also against paid family leave, public child care programs and national health insurance?

If the answer is YES, join us on August 7th. We will be analyzing our own experience to get at the root of our problems, how they are political, and planning an action to fight back.


Details:
Wed., August 7, 2013
7:00pm-8:15pm
220 Fifth Avenue (at 26th Street), 2nd floor
New York, NY (map)
Our meetings are for women only as we believe women must lead the fight for our freedom.
More about our landmark victory on the morning-after pill here, and the recent decision by the Food & Drug Administration to restrict access to generic products here.
Details

Category: New York Women's Liberation
Join us at our next meeting:

Thursday July 11th
7:00 p.m. - 8:15 p.m.
220 Fifth Avenue (at 26th Street),
5th Floor
New York, NY